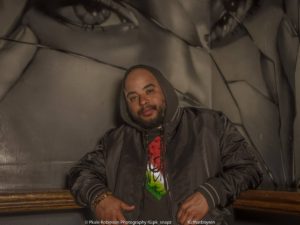 The B Side
For those who have never been to Atlanta, Ga. a.k.a. Black Hollywood, one listen to the music dominating the cities airwaves you would believe that Atlanta was a dopeboy haven. Far gone
from the days of Outkast and Goodie Mob providing the city with quality lyrical content , shed light on the economic state and racist backdrop of Atlanta. Today it's all about selling dope and
who can ball the hardest. Looking to change this misconception of his city, Renaissance is a breath of fresh air..
Born and raised in Atlanta, Ga. Robert "Renaissance" Holborough has always had a rebellious mind frame. The son of a police lieutenant and a pastor, Renaissance was never allowed to listen
to hip-hop, as a matter of fact he often caught beatings for being caught with tapes or cd's containing hip-hop music. It was this upbringing which led to Renaissance falling in love with
hip-hop and deciding that this was something he wanted to do with the rest of his life. Never initially wanting to become a recording artist it wasn't until 02-03 that Renaissance actually
found his passion for writing music. One listen to any of his tracks and it is clear to see that he is determined to set himself apart from the rest of the cities carbon copies. Whether it's the track
"Pay Your Boy No Mind" which expresses his frustration with the current state of affairs in his personal life or the club banger "Fly Away" which speaks to the female listener without
disrespecting or degrading them, Renaissance steps away from the stereotype usually given to up and coming artists out of Atlanta. Currently working on his second project "Future of the A",
Renaissance looks to become one of the most influential artists to ever come out of Atlanta, "With me it's more than music, I chose the name Renaissance because before I really found this
music shit, I was fucking up point blank. I never had a plan, I never had a goal but with this music it's like I got a second chance at life. I have a chance to re write a lot of the wrongs made
in my life as well as the wrongs done to my people by the establishment. While many of my counterparts would rather give you fairytales, I chose to give you my life with no bells and
whistles. I feel like I'm an average dude who has never lived this extraordinary life. I work a legitimate job, I don't know what it's like to have a couple of stacks in my jeans or pop bottles
every night, and I believe that there are many more people who can relate to what I have to say because I speak for them. I'm the voice of those who are afraid or just don't know how to say
what they feel. Before it's all said and done I want to be one of the greatest artists to ever do it, I'm not concerned with selling a million ringtones but more concerned with making classic
music".
It is this mindset that makes the sky the limit for Renaissance, only time will tell if Renaissance can live up to the standards and expectations that he has set in from of him. But as for now he is
off to a great start, because regardless of whether you like what he has to say or not you can't say that he doesn't speak from the heart and that is a trait missing from a lot of today's hip hop
artist…..