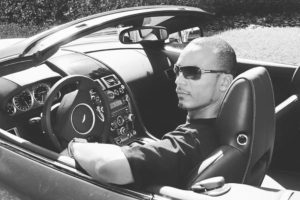 Recently I got the chance to get in a few words with Uzi Dre about his career, where he wants to go with his music and more. Uzi Dre has received numerous requests on the station for his latest single 'Ms.' You can text and request Ms at 203 564 WBHH (9244). We will definitely hear more from Uzi Dre in the coming future on WBHH – We Blazin Hip Hop
1. Where are you located?
I was born and raised in Clearwater, Florida.
2. Who was your influence to get into music
My influence to get into music was a list of people like Ghetto Boyz, Ice- T, N.W.A, Gang Star, Slick Rick, K.R.S 1, Special Ed, D Nice, Public Enemy, Paris and many more. They all had a different approach in delivering powerful messages as the voices of the ghetto.
3. What artist living or dead would you want to collaborate with?
The artist that I would like to collaborate with is Scarface, Bun B, T.I, Boosie, Eight Ball & M.J.G, Kendrick Lamar and J Cole to name a few. As For the dead 2 Pac and Biggie.
4. Since you have been doing music what is one piece of advice that you would want to give to someone who is considering doing music?
The advice I would to someone who is considering doing music is BELIEVE in YOURSELF, INVEST in YOURSELF and DON'T GIVE UP.
5. What is one thing that you want people to get from listening to your music?
I like for people to get some type of food for thought out of my music. Something that they can feel and relate to depending on the topic of the music.
6. What was the motivation behind the single Ms.?
The motivation behind the single "Ms" was I realized that I needed a song that was different then any other Exotic dancer club song with a different approach being a Florida artist. So I wanted to make THE SONG to represent for the women who is making money in the Adult Entertainment Industry and all of their loyal fans. A lot of great people supported me with the "Ms" music video which is on YouTube. Louie Dee (The son of "Joey Dee" Of "The Star Lighters"), Alex Vincent A.K.A "Andy" From the movie "Child's Play" Co Directed with video filmer Stephen Brevig, Project Pat, Karlie Redd and Heavyweight Boxer Ernest "Zeus" Mazyck is showing off his hand work in the "Ms" music video.
7. What is one thing that you can not do without when going into the studio?
One thing that I can't do without when I go to the studio is something to write with to catch the creativity as it builds in the studio.
8. What is one thing that you like to do that from people looking at you would not think you did?
One thing that I like to do that other people would not think I did is drink White Zen when everybody else is pullin' out the Henn, Gin and Vodka.
9. Where do you see yourself in the next 5 years with your music career?
In the next five years I see my music career is going to build into something unique as an artist and a Label.
10. What can we expect from Uzi Dre in the future?
You can expect the "Smell Like Money" album to be dropping this week so keep a look out for that. It's a little diary taking the listener to my world that caused a lot of adversity. The EP "Relapse" along with a couple of singles with featuring artist like my O.G Project Pat. Also more music videos.
11. How can fans get in touch with you?
The fans can always stay in contact by downloading the True Fiends App on Google Play Store or follow me on Twitter, Instagram and facebook @UziDre. True Fiends Entertainment, P.O. Box 4953, Clearwater, Florida, 33758