I am actually glad that I came across this artist. WBHH maybe known for We Blazin Hip Hop (and R&B) but there is so much more than secular music. Add in the growing Christian/Gospel Hip Hop artists that are popping up wanting to help spread the word around about Jesus Christ. For the month of September I present to you ladies and gentlemen Emcee N.I.C.E.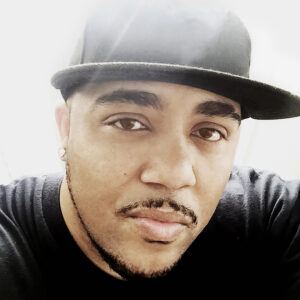 Introduce yourself and tell us where you are from?
I am Emcee N.I.C.E. a Multi-Platinum producer/songwriter, Oscar associated by way of "Crash", Actor co-star of the 3D animated 3D series on Netflix and Comcast/Xfinity called "Da Jammies" hailing from El Paso, Texas.
How did you get started in the music business?
I started out doing gospel hip-hop, but at the time it was being shunned by the church and was considered something at the time they didn't want to embrace. So I ended up joining an R&B Hip-Hop group called "KansasCali", we were RKelly & Jay Z before they were lol.. We busted on to the scene as producers when we produced 2 Pac's acoustic version of "Thugz Mansion" that featured NAS and from there as group we landed on the soundtrack of the motion picture "Crash" that won the Oscar for Best Film, then we landed on 5 others most notable "Mr. & Mrs. Smith (International Soundtrack). I would go on to participate on over 30+ records that includes some TV shows, theme song for the NBA and more.
What do you feel like the music scene is like for independent artists like yourself in your city?
The music scene in El Paso is thriving big time, Khalid (who's from El Paso) just won Best New Artist at the VMA's and is almost certain to win Best New Artist at the 2018 Grammys. Then you have Evander Griiim who just did records with Gucci Man, Lil Yatchy and more… Then there is Elia Esparza that I feature on my new Gospel Hip-Hop album, she was on The Voice Season 11 on Adam Levine's team. You also have some other starting shine like Raphael Leraux and Mr. Southwest Prince Hawkins shoutout to Loza.
For those who havent heard your music how would you describe it?
My music is Gospel | Gospel Hip-Hop | Christian Rap with a sound that reminds you of a 2 Pac meets Fat Joe (it must be the Puerto Rican in me) mixed with some R&B melodies.
What is the current single(s) that you are pushing and where can people find it?
The current singles I am pushing is "I Got Angels" produced by Sam Peezy the sub bass monsta from Alabama! The song "I Got Angels" (inspired by Gospel Music Hall of Fame and Legend Richard Smallwood's "Angels") speaks on the many Angels that watch over us to keep us out of harm's way, even though every day, the devil tries to sabotage everything you do and "On Your Way Up"featuring Elia Esparza (El Paso's Latin Sensation from Adam Levine's team on "The Voice" season 11). With the aid of scripture and soulful tones, the song speaks on God's love and how he delivers us from daily adversaries and the evil the devil conjures in our lives.
What goals do you want to achieve with in the next year?
Next year I am just hoping to make an impact on lives through my music, for those that believe in God and or having trouble with their walk, I am here to remind them that no one is perfect and that we all have flaws. So if my music saves a life or inspires a life then I would have achieved the ultimate success.
How did you come up with the name Emcee N.I.C.E?
My name explanation is fairly simple but complex when you let it sit with you, I started out as MC N.I.C.E. but then needed to modernize and as I was coming up in school I would join writing competitions and my teachers would all call me "Young Novelist" so it stuck with me and I just called myself "Novelist". So I became Novelist during my days of being in a group but then I returned to Emcee N.I.C.E. when I embarked on my solo mission. The name breaks down like this… Emcee – Is just what it stands for, I am a lyricist first that deliver words that need no sensors. Now N.I.C.E. means N= Novelist I=Is C=Constantly E=Evolving, everyday I evolve. As I was coming up in school I would join writing competitions and my teachers would call me "Young Novelist" so it stuck with me and I just called myself "Novelist" all while I was in the group and now that I am whole new adventure in music
What is one thing people don't know about you that you would like for them to know?
I am a real Author lol I have a book out called "50 Shades of L.O.V.E. – (Learning Our Various Emotions)" by Aulsondro "Novelist" Hamilton.
What is something that is a must have when you are recording?
When I am recording a must is a Venti Soy Green Tea Latte from Starbucks along with a Classic Coffee Cake. It's something about that combination that puts me in the mindset to get it in.
What is one thing that you can do without?
I could do without negative people, at the end of the day we all are already fighting to be relevant to ourselves without other piling on. My quote to people I come across is real simple, "for any great achievement someone has to be the first to do it, why not you?" Let the negative be who they are and know that it's not meant for you. Jeremiah 29:11
If you had to select an artist you wanted to work with who would it be and why?
In the future, I think it would love to do a collab, with Jay Z just because he's a living legend, (how many players would love to play with MJ23?) Sade (arguably one of the greatest voices ever), Beyonce (The greatest female entertainer ever and her melodies are insane) and Redman (the Metaphor King!) all on one joint! That would be a crazy! Oh and one with Melanie Fiona & Dave East the future oh R&B Hip-Hop).
What is something that you want people to take away from when listening to your music?
GOD! Straight up, we all go through challenges in life and that there are other people going through some of those things too and have the same questions.
Where do you see yourself in the next 5 years with your music career?
I am not psychic lol but what I would like have established is many lives save and or motivated into action by my music. I would also hope that my music would inspire writers of music to engage a new mindset that allows them to be even more creative with the writing and not reliant upon words that allows them to be sensored. There is the freedom of expression but the powers that be have set rules in place that limits that expression, but if you are clever with your rhyme stylin' and word play you can still tell your story.
Where can people find you at on social media?
Twitter & Instagram: @EmceeNICELA Facebook: www.facebook.com/EmceeNICEMusic
YouTube: https://www.youtube.com/watch?v=6m8KZxIH15k SnapChat: @EmceeNICE
Tumblr: @EmceeNICE Pinterest: @EmceeNICE
Do you have any shout outs?
Shout out to my Mother and my new album "PRAISE" in stores September 14th and the folks involved with it De'Jon Clark (R.I.P.) Frank DeRozan, BJ Luster & Chani Gray. My Producer Sam Peezy and DJ Fat Jack, those making appearances on the album Elia Esparza, Stripped, Rahkua, Alonda Rich, Selah Avery, Shalonda Johnson, Raphael Leraux and ULP's DJ CUBE and King Philip, First Lady & Co-Pastor Sibrena Sinegal and Cynthia Speed-Stewart. Also my engineers Orlando Gomez and Beacon Hill Recording Studios in El Paso, Texas along with Dan "Deezy" Naim at The Cave in Cali. D.B.I & Toon Farm Animation, Da Jammies, Dj Hustle, Kevin Black & Jahnei, Felip Loza & Edgetown Music and Arts Festival & Conference in El Paso
Lyric video link: https://youtu.be/6m8KZxIH15k