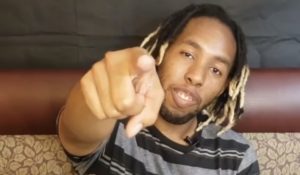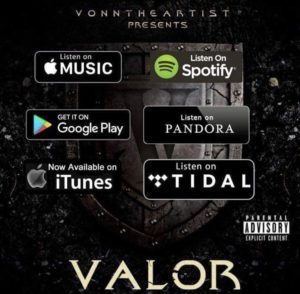 Introduce yourself and tell us where you are from?
what's going on y'all!!! My name is VonnTheArtist and I'm hailing from Baton Rouge, Louisiana. The Boot
How did you get started in the music business?
I got my start in the music business just recently really. I been rapping and making music for a very long time but the music business is a different story. It would be after my very first video "Louisiana Hard Hitter". That's when I started to learn about promotion, traveling, radio, opening up for artist, etc. it's been a long journey.
What do you feel like the music scene is like for independent artists like yourself in your city?
the music scene is actually one of the best right now if I had to say. Baton Rouge is like a hidden gem. It's a small town with big talent. We don't have the labels or the machines like other cities and states so we have to rely on each other for a push. Videos, photo shoots, promotion, etc. 9/10 it's another artist that does these things so that's how we build our network up. So the scene here is FLOODED with just talent.
For those who havent heard your music how would you describe it?
I don't really know but if I had to say anything it'll be motivational, inspiring, entertaining, fun, different and conscious. I like to talk about growth but make it still entertaining to the ear.
What is the current single(s) that you are pushing and where can people find it?
my current single at this moment is "Heads up" & "K.O.K". This two songs can be found on my new project that just dropped "Valor". It's available on all digital music steaming and download platforms. https://itunes.apple.com/us/album/valor/1437289287
What goals do you want to achive with in the next year?
I been working on Valor for this entire end and dropped it at the end. When I had this vision in mind the goal I wanted to achieve was to just make my name know as a artist but that's small thinking. My goal within the next year is to me mentioned as one of the great. To be that artist that somebody can look at they friend a year from now and say "I told you that that boy was gon blow!!" Lol. So you can say my goal in the next year is to make my mark in this industry as a real MC.
How did you come up with the name Vonntheartist?
My name use to be just "ICE" but for the reason of branding, marketing and just being overall searchable I had to change it. I still go by ICE but it's VonnTheArtist now. An artist and a rapper are two different things. I use to rap til I understood what it takes to make a song. They are two different processes. My real name is Sherman Shavon Wells. So, I just dissected it and condensed it to Vonn. It's short and sweet and it's part of my real name so it's easy to carry around. My good friends Tony Tumac and DJ Tokyo helped me move forward with this decision. Slapped the artist at the back of it and BOOM…rebranded.
What is one thing people dont know about you that you would like for them to know?
I would love for y'all to know that I am a very big gamer and a music nerd. Retro games are my favorite. Super Nintendo, sega genesis, Dreamcast, Nintendo 64. And old school music the same. I love Ray Charles, muddy waters, prince, the spinners, earth, wind and fire…can't beat the classics.
What is something that is a must have when you are recording?
Comfort, focus, positive vibes, chemistry and some kinda mint. They clear out your sinuses so breath control becomes easier.
What is one thing that you can do without?
the politics of the music industry. Things have changed I know and It comes with time but skill use to be a requirement. We wouldn't have Eminem, NAS, lil Wayne, T.I, Ludacris, jadakiss, j. Cole and more of it wasn't for skill. A lot of artist are going to die out after the hype wears off and we won't have a lot of legends from the new generation without actual skill because politics make it only about money and who can sale. You don't even have to be good anymore to be a artist. People laughed at shock G but his rhyming patterns are actually dope.
If you had to select an artist you wanted to work with who would it be and why?
I would love to work with J. Cole hands down. He is just my favorite artists. He is one of the artist I have been following since he start and watched he become one of the greats. He definitely in my top 5 dead or alive.
What is something that you want people to take away from when listening to your music?
never settle, Always aim big, #nobroke, follow your dreams, find your purpose and never let anybody or anything project their fears on you.
Where do you see yourself in the next 5 years with your music career?
In 5 years, I want to be in a place where I can run a successful label and have the formula and tools to be able to put the next generation on and create superstars. I'm not selfish at all. There are TONS of artist and great acts that just need a chance. I want to be that chance in 5 years.
Besides music is there anything else that you are apart of?
Just a few online. Battle rap groups, throwback groups, motivation and self help groups. I'm not really apart of anything big. I'm super regular.
Where can people find you at on social media?
You can find me at the following:
Instagram: VonnTheArtist
Twitter: VonnTheArtist
Snapchat: VonnTheArtist
Facebook: VonnTheArtist
Spotify, iTunes, deezer, Apple Music, SoundCloud, googleplay and more as well.
Do you have any shout outs?
I wanna thank god first for breath and my talent. Wanna thank my mama and daddy for creating me, all and everyone of my friends and family. Every single one of my haters and enemies that made me into the man I am today. The struggle and poverty for crafting my grind and my hustle. Love all of it.