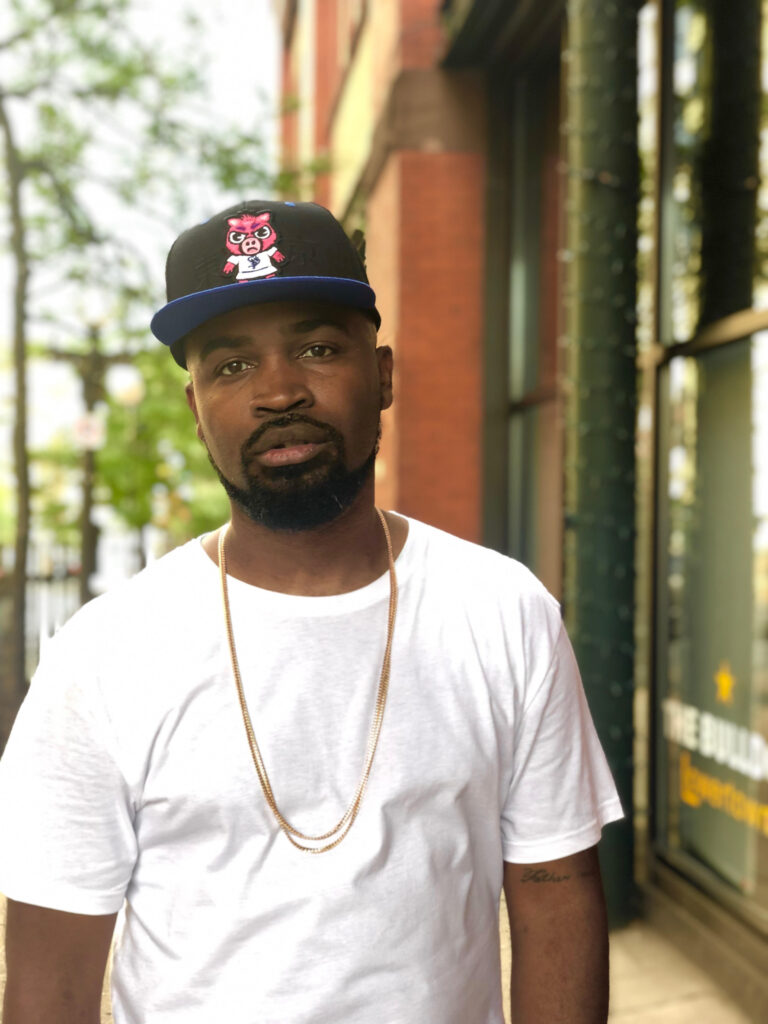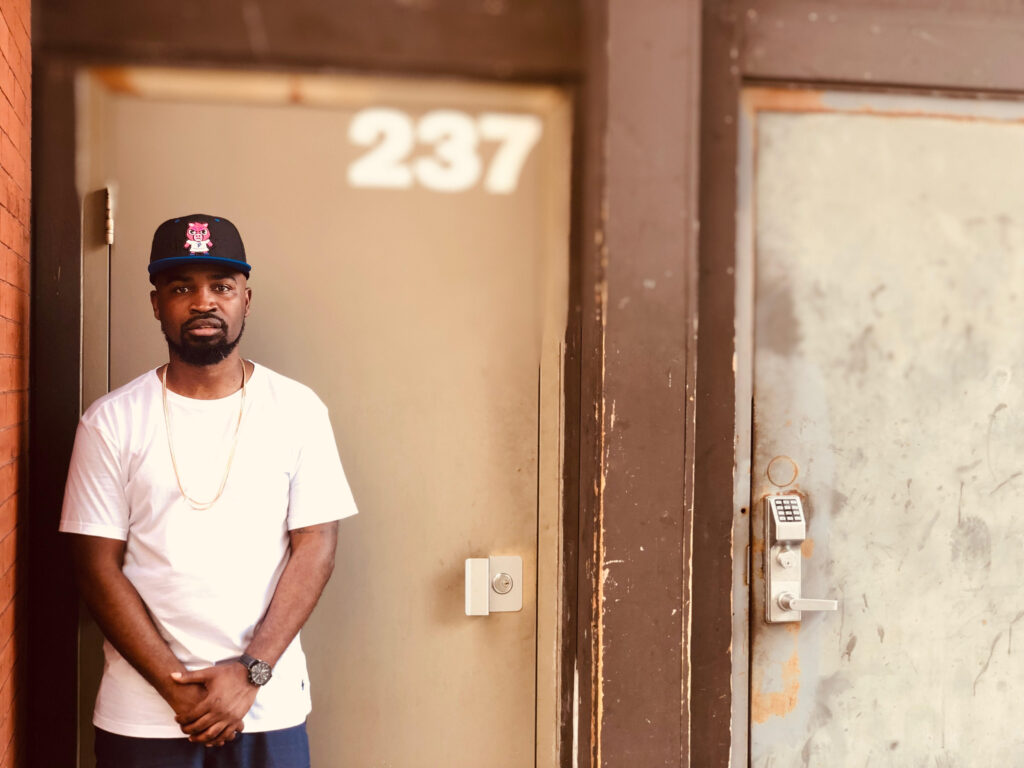 Where did you come up with your name?
My first name is Antoine and when we were younger, my older brother would tease me from time to time and call me 'Twain'. Later, some of my guys started calling me that in high school.
So when I started to rap and needed a stage name, I just rolled with that. Always in all capital letters though, ha.
Who influenced your love of music?
Not so much a person but growing up in & around Chicago listening to WGCI 107.5 all the time; the radio. The music was so classic, especially in the late 80's and early 90's. But I guess that's still my mom since she was the one playing it haha, plus she played a lot of Sadé, Luther Vandross, and Anita Baker too. And that music was incredible. So I gotta credit her too.
When did you know that this was something you wanted to take serious?
Right after high school…age 18. I had been working on my craft in private for the prior few years and I saw myself leveling up. I could hear it back when I'd spit, and my peoples around me was saying the same. So it was time.
What rapper would be your dream collaboration?
B.I.G. The Notorious B.I.G. trading bars with me would have me rise to the occasion like never before.
What producer would be your dream collaboration?
Lol there's still independent producers I dream of working with…I'm big on the power of the unknown / up-and-coming. But, of course I'd love to work with any of the super producers: Dre, Pharrell, Kanye, Just Blaze, No I.D., DJ Quik, Jermaine Dupri, Bink!, Timbaland, Puffy. And J.U.S.T.I.C.E League, 9th Wonder, The Inkredibles, Mike Will, Metro Boomin, Hit Boy, Boi-1da, I can really go on & on. Producers are the key IMO.
What advice do you have for someone that is thinking about being an artist?
Being an artist is super difficult for a myriad of factors. You'll only survive if you love it & are doing it for the right reasons.
Have you ever encountered a writer's block when it came to writing your music and what did you do to over come it?
Yes, I lost five years of my music career due to it. I dropped a album in October 2009, my next commercial release was December 2014. That never happened before. I got through by focusing on living my life & growing as a person / human, then simply writing about those experiences with no pressure.
If you were not pursuing music what do you think that you would be doing?
I'd likely be a writer / philosopher. Some sort of thought leader. I still plan on doing that post-music 😉
What do you think about the music scene in your city is it geared to help indie artists thrive?
Dave Chappelle recently said him & all his comedian friends are jealous of each other but love each other. That sums up what's its like in the Twin Cities music scene, especially hip-hop. I used to be more hopeful, but it's not the reality. I pray things will change; I believe they will. Outside of that, our scene is great. We actually have one, some cities don't.
Has going after music caused you to lose any friends? If so how do you feel about that?
Naw. I have a zero tolerance policy with something like that. The concept sounds ridiculous to me.
What event or festival would you like to perform at?
Glastonbury, Coachella, or Made In America since our culture owns that. But I'm happy to perform anywhere, I'd love to do something with Go Radio 95.3 and KMOJ 89.9 here in my city, Minneapolis. More importantly tho, I've built my own concert brands I can perform at that are mine. So I don't have to ask for anything unless I choose.
What group of people are you trying to reach when it comes to your music?
At this point, anyone it resonates with and enjoys it. The more calculated answer would be millennials who love 90's & early 2000s hip-hop & lyricism. But, supporters come in all ages & shapes & sizes. I show appreciation to whoever they are!
How far do you want to go with your career?
Those same supporters I just named, I want to continue to build on to them & expand my core audience. To continue to feed them music, merch & lifestyle, content, live music experiences, and other affiliated acts that have my co-sign & backing. If you're reading this I hope you become one.
At what point will you considered that you have made it?
I've been at this so long I feel like I already have. Being a artist is a privilege, and I survived the music business to get to this moment. A lot of people I started with didn't. We define our own success; I'm grateful to share my art & impact people. As cliché as that sounds, but it's the truth.
What is something positive that you want people to know about you?
I'm committed to being the best I can be; I am the change I wanna see in the world.
What is something you have to do before you record your music?
I dunno I'm weird…I like to make sure I look the part when I go to the studio. I rarely go record in casual or comfortable clothes. I feel like it makes my performance better on the recording lol, so a fresh pair of kicks, a dope fit, some jewelry with a nice watch. All that.
What is something that you have to have in the studio with you when you are recording?
My longtime recording engineer Paul Shanafelt, that's it.
Would you change anything that you have done to get where you are now?
Yes, a few things, at least that I know about it; because there are always things that we don't know that we don't know. But I'm living in the now, I take responsibility for those & I have to just move forward.
What is your latest single that you are promoting?
Two actually, "She Do Somethin" and "Changes" featuring Jay Jeminii.
What are some things you are working on for the future?
Right now just promoting my new Central Standard Time album full force & continuing to learn about the music business so I can strategize properly. I also manage a new R&B artist named Cariah Brinaé, and am producing another R&B songstress named Christina Sophia. Helping their careers is keeping me very busy. And some other stuff I am not at liberty to speak on publicly just yet.
What shout outs do you have?
Cariah, Christina, everybody who works close with me to ensure my success, Paul Shanafelt, all the supporters of my music past, present, and future. My family, and a special shout to my children, Jason and J.R.
Where can people follow you on social media?
@twainlo on everything except SnapChat.